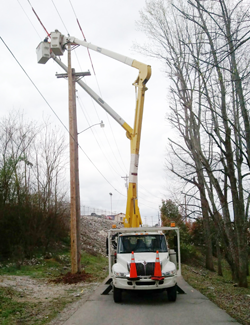 In the event of a power outage there are a few things you can do to help us better serve you.
1. Check to see if you are the only one without power, if you are check your main breaker or fuse. If your main breaker or fuse has tripped and you reset it but the power remains out contact us.
2. If you're not the only one without power we may already know about the outage, but don't assume so. Please contact us and let us know.
3. When you call be sure to tell us your address, the nature of your problem, and your phone number so we can contact you to make sure the problem has been resolved if need be.
After Hours Emergencies
Call the office your call will go to an automated system that will let you choose the department to best handle your emergency. You will be prompted to leave a message that will be sent to an on-call employee that will respond to your emergency. There is a slight delay from the time the message is left to the time the employee receives it, so please allow time for them to respond. If there is a major outage not all calls will be returned, but rest assured that we are working to resolve the problem and your services will be restored as soon as possible.
In the event of a major outage the department will work to restore everyone's power, however in such an event certain customers will be given priority.
1. Critical care facilities and emergency services. (Customers on life support systems will be moved to one of these facilities if such an outage were to ever occur that can't be restored in a timely manner)
2. Utility and Communications providers. (So that your other services can be restored or maintained)
3. Customers on life support systems.
4. From this point the department will work to restore power to areas where we can get the most customers back on the quickest.
Safety
1. Remember to always stay away from downed power lines; a downed power line can still be energized.
2. If line crews are working in your area please keep a safe distance from the worksite.
3. If you run a generator during outages please be sure the generator and anything fed from it are disconnected from the main power lines. Generators can back-feed to the main lines and seriously injure or even kill the men working to restore your power if it is connected to our lines.
4. In the event of a power outage at a traffic light intersection, the intersection should be treated as a 4 way stop.