Application for Service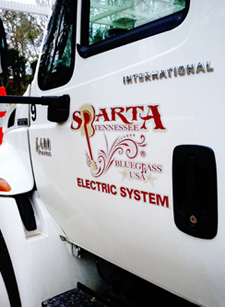 The City of Sparta will provide service to applicants who are of majority age, have no prior outstanding delinquency with the City, and who provide satisfactory proof of identity. Each customer will be required to execute a utility service agreement.
Application must be made in person at the Sparta Electric & Public Works Department. Service will be connected the day the customer requests such service provided that the request is received by 3:30/p.m. All requests for same day service received after 3:30p.m. will be subject to additional service charges. Failure to request service in a timely manner may result in a delay in providing utility service.
Applicants for new service must provide identification such as Driver's License, Social Security Card, Passport, or Birth Certificate before utility service is provided.
Customers who are leasing/renting must provide a copy of the lease/rental agreement listing all tenants before service will be provided.
Deposits, delinquent accounts, and service charges must be paid before utility service can be provided.
A deposit or suitable guarantee will be required of any customer before service is supplied.
For information about deposit and connection fees click here or call our office for an exact deposit amount. When you call, please be sure to have the address of the location you're inquiring about and the names of any adult that will be residing there.
Change in Customer of Record (the name or names your account is in)
Changes in the customer of record for exiting residential customers may be granted if the change in customer name or status are a result of marriage, divorce, legal name change or death; or the customer has satisfactory identification or documentation in the new name or status.
New Overhead Construction
In most cases overhead service can be run at no cost to the customer. (Under normal circumstances includes 200' of primary and 150' of secondary line)
Meter bases are supplied at no cost to the customer for new construction. (For multi-gang meter bases there will be an additional charge)
New Underground Construction
There is an up front cost of $200.00 for all underground services. Additional cost may be added based on the circumstances of the installation.
The customer will be required to dig the ditch and install the conduit (a pull string will also need to be placed in the conduit for pulling wire) for underground service.
Secondary services will need to be buried at a depth no less than 24" and primary line at a depth no less than 48".
Meter bases are supplied at no cost to the customer for new construction. (For multi-gang meter bases there will be an additional charge)
Existing Service
There will be a charge for existing meter bases that need to be replaced or upgraded.
Note: SES does not install or replace meter bases; you will need to hire a licensed electrician to perform the installation or replacement for you.
If you have any questions or are not sure what type of service you will require, please contact us.